Today, exactly 52 days ago, dare-devil terrorists in Katari, Kaduna State, ferried 68 rail passengers into captivity. Clearly, the government and security agencies technically know these abductors and what they want. It is bad enough that the criminal gang showed superior intelligence than the Nigerian State to earn the commanding position. Most unacceptable is the laidback approach of the government and security agencies to recover abductees by whatever means necessary. Yet, failure to do so is not a credit to the floundering ruling class; rather, it again affirms this current administration as one deficient in compassion, competence and sincerity.
Except for family members that continue to hold vigils and media briefings toward abductees' safe return home, the March 28 dastardly attack on innocent citizens has nearly flame out of notoriety. The Federal Government has seemingly moved on, though occasionally mouths what needed to be done without any inclination of security agencies searching the forest to rescue anyone. And the Nigerian Railway Corporation (NRC) has fixed its bombed coaches, and now warming up to resume Abuja-Kaduna operation as if March 28 didn't happen. It did happen and the reason scores of abductees are still missing and much to the agony of relatives. But where is the Federal Government, especially the president that swore to keep Nigerians safe and secured? Where is the Commander-in-Chief in all these?
Shortly after the attack that killed eight persons and injured 26, the criminal gang had demanded the release of some of its detained commanders and financiers in exchange for abductees. The Managing Director of the Bank of Agriculture, Alwan Hassan, was released following the payment of huge ransom. One of the abductees had been delivered of a baby in exile, with the abductors showing photos of the newborn for the world to see. Reports have it that the gangs even invited a doctor to take delivery of the newborn. These pieces of information, when put together, frame a well-coordinated yet a near-by network of criminal enterprise that a determined security agency should burst rather quickly. Without any denial yet, the government has valuable members of this terrorist group in its custody. Note that the police in Kaduna recently arrest a serving councilor with evidences of transporting firearms to bandits in the forest! These high profile suspects and detainees are pointers to operations and abode of the larger group(s), if the security agencies are interested in crackdown. It is therefore untenable that 52 days had gone by without headway for the freedom of the abductees.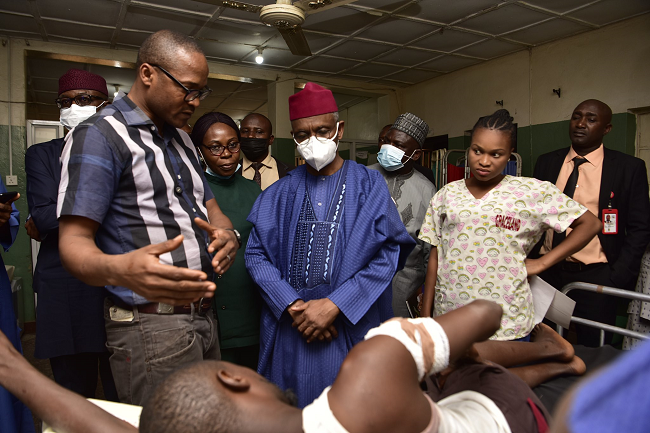 Perhaps it borders more on the lack of compassion and competence of the current administration. President Buhari was in 2015 elected into office both as a rebuke for the maladministration of Goodluck Jonathan and for promise to do a better job on security than the incumbent. But Buhari settled in office in betrayal of the peoples' devotion. Nigerians have not seen fulfillment of his promise but they can feel him exerting more energy at creating a dreadful and wild country. That foreclosed other promises of socio-economic development long time ago, even as the country becomes the poverty capital of the world. In the general lack of compassion and sincerity, the government has forgotten 109 out of 276 students of Government Girls Secondary School (GGSS), Chibok, that were abducted by Boko Haram insurgents a year before Buhari came to power. Leah Sharibu, a Christian who resisted renunciation of faith, is still left behind four years after. These girls and their parents have been abandoned to their fate, contrary to Buhari's promises and expectation of his powerful office. Needless to say, thousands of Nigerians captured by bandits and terrorists in less prominent circumstances are still languishing in captivity, if they are alive. But the 68 recently abducted should not add to the toll of the lost and forgotten. Indeed, lives of all Nigerians held in captivity should matter to a responsible and compassionate administration and a fatherly Commander-in-Chief too. Failure of Buhari's government to, for once, be empathetic to Nigerians has rightly fuelled speculation that he is conniving with and protecting the marauders who are believed to be fellow Fulani.